DM1506 Jewelry SLA laser 3D printer
DM1506 Jewelry SLA laser 3D printer
Relying on deep 3D printing technology and experiences, Rich-Opto provides SLA 3D printer—— DM1506 with independent intellectual property rights. The precision and stability can both reach industrial standard. The build volume is far beyond other printers in the market, meeting more customers' requirements of high precision.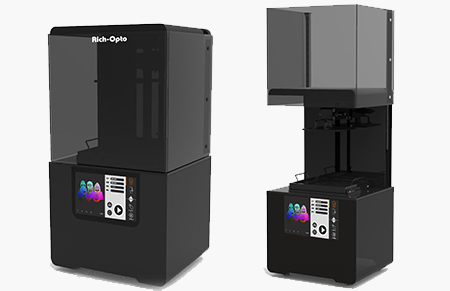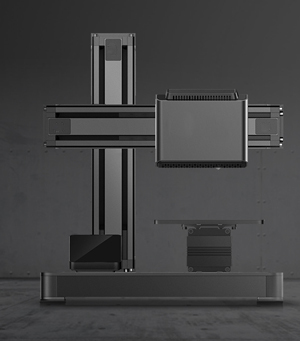 EQUIPMENT CHARACTERISTICS
Contains a next-generation laser optical path system independently developed by Rich-Opto: high
speed, high precision and good stability.
0.05mm focus spot: enables fine touches and 0.3mm thin wall printing.
Industrial grade laser scanning galvanometer: laser scanning speed of 10000mm/s.
Utilizes stable and accurate linear guide rail with pinpoint positioning, can restore the print model with
precision in the case of high load.
7 inch HD touch screen for easier operation.
Model DM1506

Dimension 380mm×330mm×720mm (L×W×H)

Weight 30.5Kg

Printing size 150mm×150mm×200mm

Laser 405nm

Scan speed 10000mm/s(Max)

Focal spot 0.03mm

Z axis spec. servo motor,linear guide rail

Laser power 50mw~220mw
Power supply 100-240V 1.5A 50/60Hz 160W
Layer resolution 0.025mm-0.1mm

Minimum wall thickness 0.3mm

Minimum aperture 0.3mm

XY axis resolution 0.004mm

Operating system WindowsXP and update system

Data Handling STL/SLC/ROC

File transfer mode USB,WIFI

Display screen 7 inch HD LCD

Printing material Photopolymer resin
Industrial hardware configuration
To achieve optimum printing performance, all hardware parts meet industrial grade :
●SINO-US patented integrated laser optical system

● Laser scanning
SLA 3D printing performance hinges on the quality of the laser scanning system. Rich-Opto uses an industrial grade digital laser galvanometer scanning system imported from Germany to ensure high precision, high speed and high stability. With this technology, there is no risk of galvanometer drift even during high intensity printing.

● Laser output
A modular 405nm laser imported from Japan ensures excellent spot correction and F-θ field lens optimization. The laser focus spot is capable of reaching 0.03mm in perfect conditions to guarantee printing quality.

●Demoulding system
Rich-Opto incorporates imported linear guide rails, motors and other high-quality machinery to improve the precision of the Z -axis and to ensure layer thickness resolution and stability under high capacity.